As written previously, berry week 2019 fell at an inconvenient time this year, so at the time I focused on just picking and cleaning as much as possible and store it in the freezer until it could fit in my schedule and (more difficult) on our jam shelf. Thus with a freezer full to the brim I went back to eating up last year's produce. Right up until last week, when the freezer was urgently needed for other purposes and I came home from work to find about 8 kilos of laboriously cleaned fruit melting in a box – clock ticking. Now, it always was my intention to make syrup out of at least some produce, so that instead of overproducing jam I would have new options for fruity drinks, so now was the time to re-google for a recipe and get going. Here is the one found (check it out for better pictures and opinions and to give credit where credit is due), but in essence it takes 1 kg berries, ½ L water, 400 g sugar and ½-1 lemon. The berries should boil in the water for 15 minutes, then be filtered for 1 hour (if possible apply extra pressure and squash the berries), reheat with sugar and lemon. Pour  into sterilized bottles and store in fridge. Taking the time to filter I got a bit more than 1 L per kg fruit (also, trying to filter more than about a kg means that its more difficult for the juice to run out and I got lower yield). The end result tastes fine, though perhaps a bit sweeter than generally I prefer. Moar lemon, eh? For a first attempt I am happy and satisfied, and have a base from where I can experiment and tweak to taste. It also mixes well with whiskey and rum.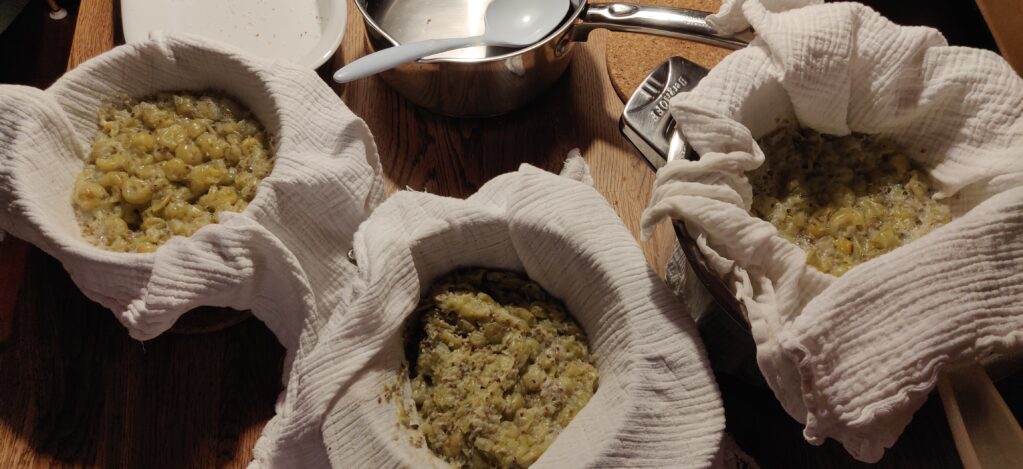 The rest of the gooseberries went to jam according to the usual recipe, except I added a fresh habanero chili for about 5 minutes and had to substitute the vanilla pod with vanilla sugar. Fine result with the chili adding a little extra edge. Not berries, but noteworthy is that after I emptied the greenhouse last weekend I also had to deal with this year's chili harvest. Knowing that we have never run out of dried chilies, I decided not to spend time cleaning fruit that won't be used. Instead I brought a bunch to work to share with colleagues, then cleaned the rest and put them in the windowsill to dry (that is a key downside of my new aquarium – the LED lighting does give off enough heat to dry anything and the lid must be opened when feeding frozen food), so putting stuff on top for any duration is just not an option).
Featured image
This featured image shows gooseberry heating up to make syrup.
Related posts