<- Winter 2020 – Summer 2020 ->
This year, 2020, has become the year of the corona virus pandemic. It is bad already and no one knows yet how much worse it is going to get. To so many people it has meant spending time confined at home, so if ever there was a time to appreciate one's garden, this would be it and I certainly am. 
However, staying at home hasn't meant spending more time in the garden than usual. Taking care of work and children at the same time takes plenty of energy and with the pandemic hovering in the background, working the garden doesn't get much attention. Still, the basic work that must be done is getting done.
Among the yearly spring activities is the pruning of trees. Especially our apple espalier and willow are important milestones every year because they must be done in winter or early spring, and are therefore very dependent on the weather being at least reasonable. Then we have fruit trees and bushes, and especially the fruit trees – apple, quince and crabapple – have been challenges. Not because they are intrinsically difficult – I don't believe they are – but because I have been uncertain about how to prune them, and doing something year after year without really feeling confident about what you do, doesn't yield satisfactory results (aesthetically, that is: fruit yield from the trees is not bad, actually, except for last year 2019 when frost in May ruined the fruit production across the entire country). And even the aesthetics I am not so sure of – it may just be that my vision of what the trees should look like didn't match up with the reality in my garden.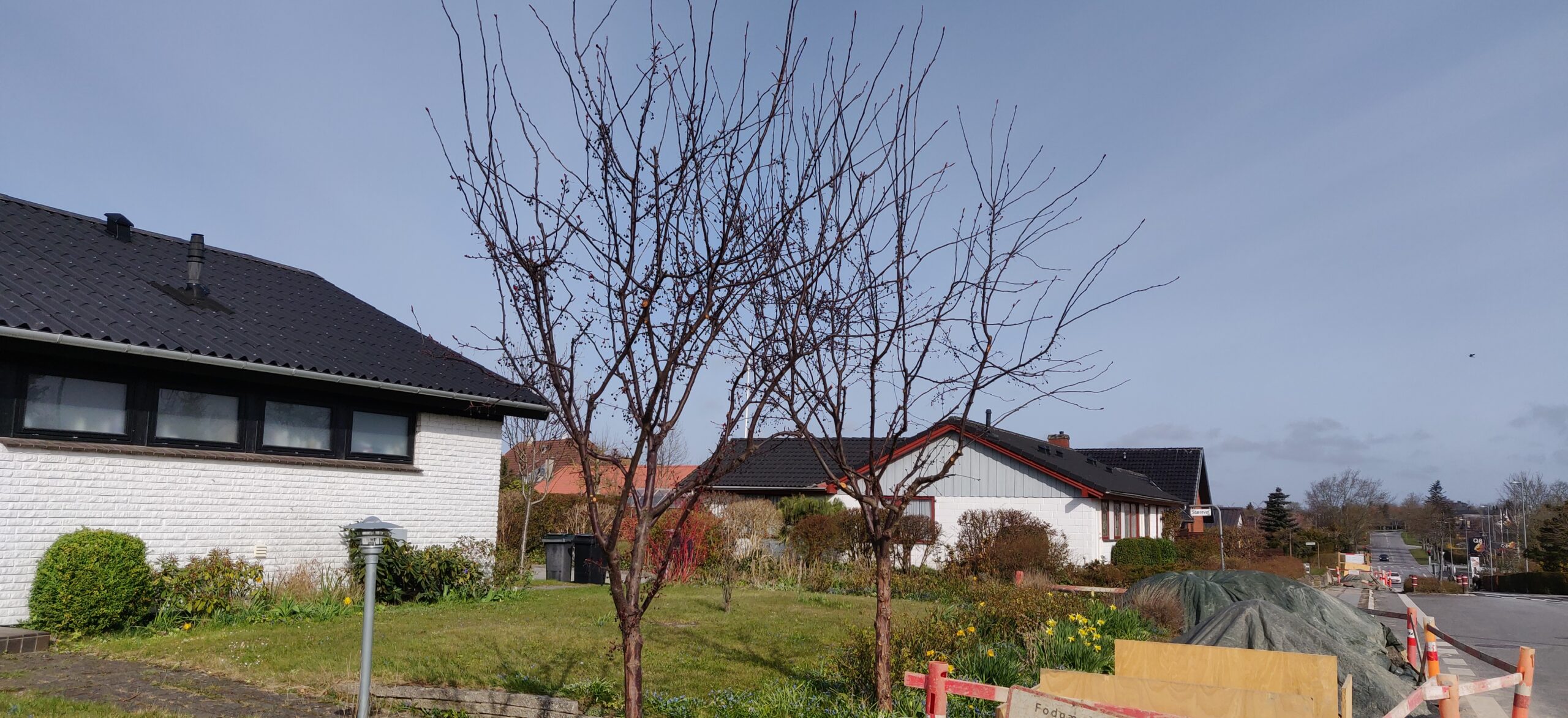 But what do I actually know about the shape of young apple trees? Not much, so Youtube to the rescue. Because, of course there are videos showing apple trees, showing apple trees before pruning and after pruning and showing apple trees in the process of being pruned. Some videos also have people talking about pruning without trees. Fascinating stuff and very instructive. I was relieved to discover that pruning is not an exact science that I just don't or can't understand. There are general rules: get rid of water sprouts and growth follows the nearest bud; but apart from that, I see that people approach this in very different ways, so I came away with the beginnings of confidence and an idea of how to approach the task with my own trees. "Slow, but Fearless" turned out to work for me: Slow, because taking one branch at a time allows me to evaluate the result of each cut, so I stretched the pruning out over 3-4 days, shaping each tree along the way. Fearless, because some major branches had to go away before the trees were aesthetically pleasing. For example, on one crabapple tree I actually removed the central stem above a certain height. The tree is one of a pair and one tree was always bigger than the other. That, is, not any more and it looks so good. Now I look forward to see the trees row this season and doing adjustment pruning next year.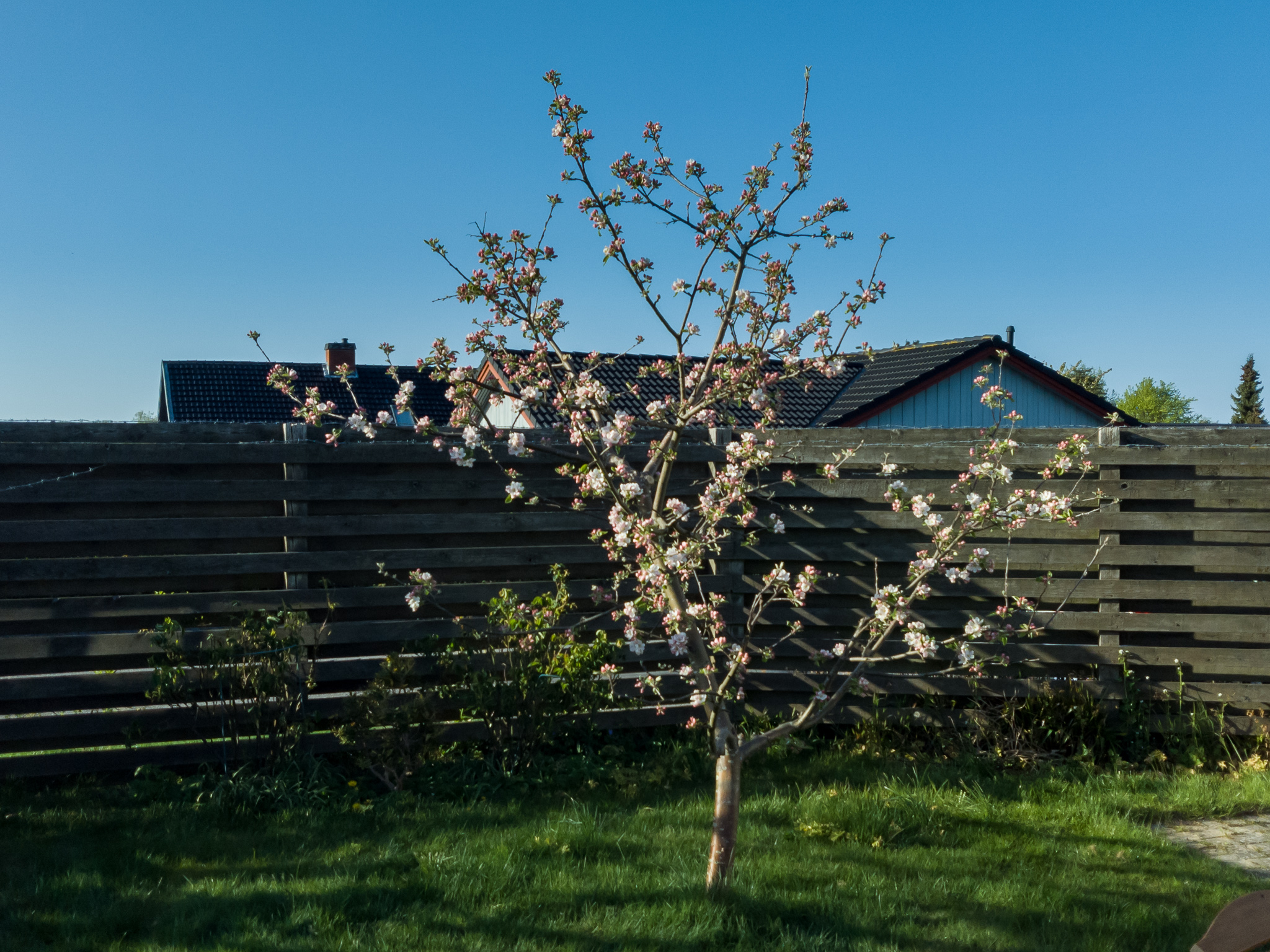 Also part of the yearly cycle is preparing plants for the greenhouse. This year we once more bought seeds from Simpson's Seeds, and the seeds were sown on Mar 6 (chilies) and Apr 7 (tomatoes and cucumbers)
This is pretty much the same as our 2018 dates. An overview of past sowing dates:
| Year | Chilies | Tomatoes | Notes |
| --- | --- | --- | --- |
| 2021 | Feb 21 | | |
| 2020 | Mar 6 | Apr 7 | |
| 2019 | Mar 10 | Apr 13 | |
| 2018 | Feb 24 | Apr 7 | |
| 2017 | Mar 20 | Apr 9 | |
| 2016 | Feb 22 | Mar 27 | |
| 2015 | Feb 19 | | |
| 2014 | Mar 2 | Mar 2 | |
| 2013 | | | Didn't sow (kid) |
| 2012 | Mar 17 | Apr 1 | |
| 2011 | | | Didn't sow (vacation) |
| 2010 | Feb 28 | Mar 21 | |
Key events in the
gard
en
Mar 6: Chilies sown:

Goat Horn
Habanero
Lemon Drop
Cayenne Long Slim
Hungarian Black (2018 seeds)
Jamaican Hot (seeds from a jar of dried chilies from 2018)

Mar 8: Pruned the willow tree
Mar 21: Pruned roses
Mar 28: First mowing of the lawn
Apr 7: Sowed tomatoes – cultivars as follows:

Sungold
Stupice
Bloody Butcher
Indigo Cherry Drops
Black Russian
Bottondoro

Apr 9: Repotted the chilies, keeping 3 of each (5 different ones – the Jamaican Hot didn't sprout); also sowed cucumber
Apr 27: Repotted tomatoes, keeping 3-5 of each

The tomatoes are ready to be repotted.

May 23: Prepared greenhouse
May 24: Planted greenhouse
May 27: Willow tree was felled, along with the oldest espaliered apple
Featured image
Garden trash is piling up during the closure of recycling stations.
Related posts